Du måste logga in för att kunna anmäla intresse.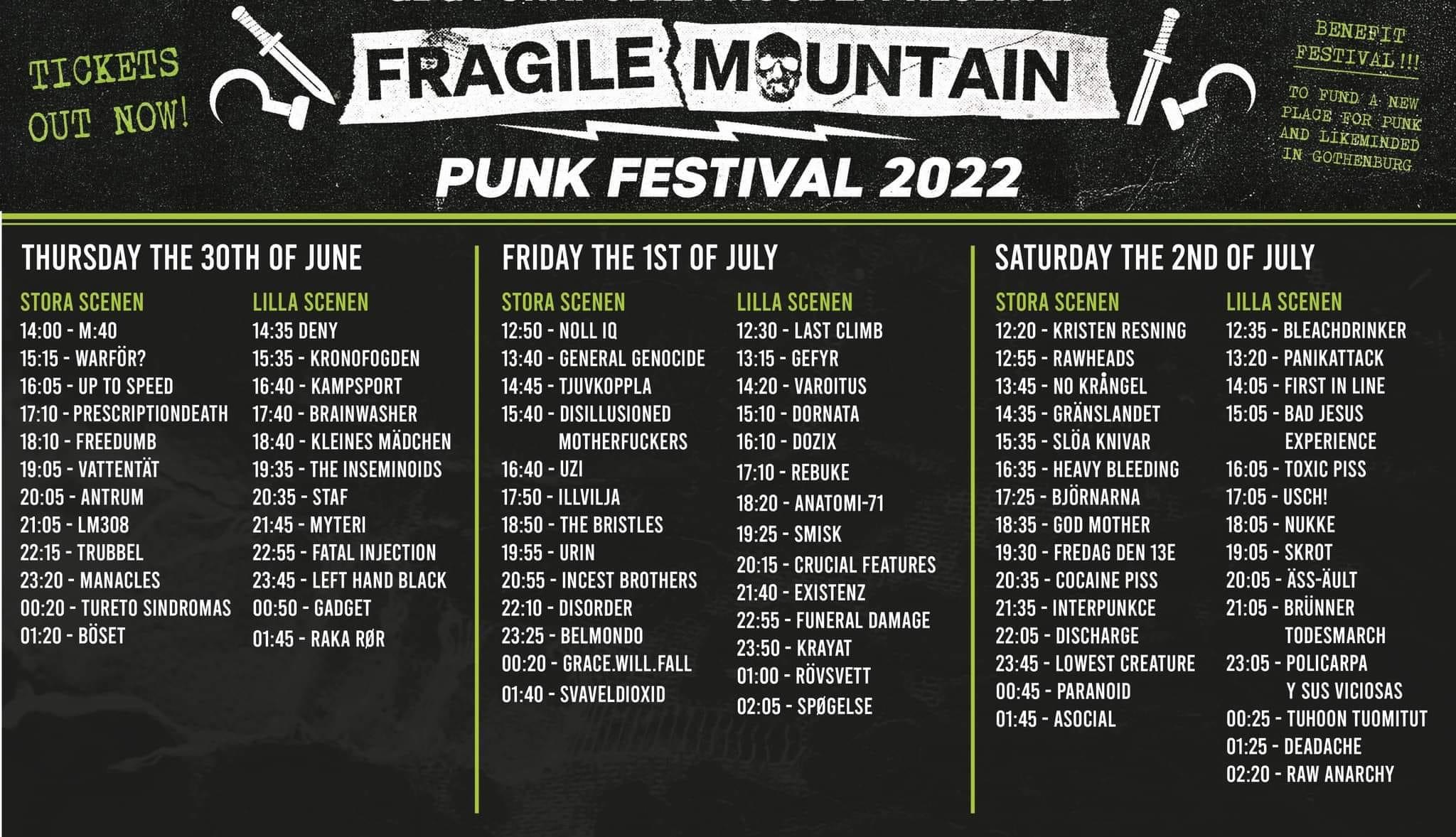 FRAGILE MOUNTAIN PUNK FESTIVAL 2022!!!
A d.i.y benefit festival by punx for punx to fund a new place for people like us in Gothenburg sweden!!!
OPEN AIR///TWO STAGES///CAMPSITE///VEGAN FOOD N DRINX///DISTRO AREA/// 3 DAYS OF PUNKY SHIT!!!
For detailed info, tickets and more visit:
WWW.FRAGILEMOUNTAIN.ROCKS
Here's a summary of the line-up!
DISCHARGE:
Without doubt one of the most influential punk bands of all time. Formed in Stoke-On-Trent in 1977 and is by many seen as the originators of the famous d-beat. I don't think we have to say more than that, right?
https://dischargeofficialmusic.bandcamp.com/
DISORDER:
One of the most classic British punk bands. Formed in Bristol in 1980 and been active since then.
https://www.youtube.com/watch?v=tBvrlzoPKu0
VATTENTÄT:
Some old GBG punk band since 1978, more info later.
KRISTEN RESNING:
Crazy and artsy lofi punk from Gothenburg that has to be experienced live.
https://levandebegravd.bandcamp.com/album/kristen-resning-tillbaka-till-wittenberg
POLIKARPA Y SUS VICIOSAS:
Legendary feminist anarcho punk with hardcore vibes all the way from Colombia.
https://www.polikarpaysusviciosas.com/
UZI:
New hardcore/punk from Colombia featuring members from all your favorite Colombian bands.
https://uzipunkbogota.bandcamp.com/
DØZIX:
Raw old school punk played by latinos in Berlin. Very 80's sounding and very nice.
https://dozix.bandcamp.com/album/
FUNERAL DAMAGE:
Very thrashy crust punk from Berlin. Or is it crusty thrash metal? Listen for yourself and find out!
https://funeraldamage.bandcamp.com/
ÄSS-ÄULT:
Very straightforward and raw fucking hardcore/punk with Spanish lyrics, from Berlin.
https://ass-ault.bandcamp.com/
KRAYAT:
Old school d-beat punk from Berlin. With lyrics in Bulgarian.
https://krayat.bandcamp.com/
ANTRUM:
Super fresh d-beat hardcore/punk from Barcelona. Featuring members from Avslag, Bite the Hand, Expatriated, Atomiko and Qloaqa Letal.
https://antrumpunkhardcore.bandcamp.com/
SVAVELDIOXID:
Intense crust/hardcore from Stockholm. Members from Human Waste, Svart Aggression, Warvictims, Disfear and Anger Burning, among other bands.
https://svaveldioxid.bandcamp.com/
GEFYR:
Fast, mad and noisy d-beat punk from Angry Hudik. Make sure to warm up your crust fist now!
https://angryhudikhc.bandcamp.com/?fbclid=IwAR0NU4PDSZCEEgiZgXDGHEyNz2l4cFcUW24QTAj0F-_swyeXwTmV4oDs3qs
KAMPSPORT:
Really fucking fast and stompy powerviolence/hardcore from Malmö. Played by a bunch of high school kids.
https://kampsport.bandcamp.com/
GRACE.WILL.FALL:
Classic hardcore band from Jönköping who formed way back in 2002. This gig will be there official 20 year anniversary. So come out and celebrate with us!
https://gracewillfall.bandcamp.com/
INCEST BROTHERS:
One of the earliest Swedish punk bands. Formed in Stockholm all the way back in 1977. Mostly famous for being a part of the classic album Bakverk 80, together with KSMB and Travolta Kids.
https://www.youtube.com/watch?v=uS1pj1icUtA
STAF:
New band from Partille that consists of a bunch of 15-16 year olds. Heavily inspired by the early Swedish punk wave.n.
https://open.spotify.com/artist/0DA4OtfjyCzD5n40V97p6T
GADGET:
Classic Swedish grindcore band from Gävle that has been going on since 1997.
https://gadgetband.bandcamp.com/
BJÖRNARNA:
One of best current trallpunk (fast skate punk-ish with melodies inspired by Scandinavian folk music) bands in Sweden. Formed in Uppsala in 2010 and just keeps getting better and better every year.
https://bjornarna.bandcamp.com/
SMISK:
Really vulgar and dirty feminist queer punk from Malmö. Sometimes they play in a diaper, sometimes in Teletubbies suits. You never know what to expect. You just have to see them live!
https://smisk.bandcamp.com/
FATAL INJECTION:
"Live-in-your-parents-basement-when-your'e-30-and-spend-your-days-drinking-beer-behind-the-gas-station-with-your-pals-except-when-you-sit-home-and-watch-Troma-movies-punk"
Since we are poor as fuck we couldn't afford Municipal Waste but this is the perfect solution for all you long haired punx in patched blue denim jackets.
https://open.spotify.com/artist/4nm9NzqN5ZFfpcWlDgTV6m
TOXIC PISS:
One of the best hardcore/punk bands from Gothenburg right now.
https://toxicpiss1.bandcamp.com/
THE INSEMINOIDS:
Very underrated horror punk band from Gothenburg that has been active for 10 years.
https://theinseminoids.bandcamp.com/
LEFT HAND BLACK:
A hidden gem in the Gothenburg punk scene. Probably the biggest horrorpunk band in Gothenburg. Way bigger in mainland Europe and USA than in Sweden.
https://lefthandblack.se/
EXISTENZ:
Classic Swedish punk band formed in Helsingborg way back in 1981. Released two classic EP's in 1983 and 1984 before calling it quits. Reformed in 2016 with the old lineup and have been going on since then.
https://existenz.bandcamp.com/
GRÄNSLANDET:
Crust with a lot of sludge vibes, from Kristinehamn. Monotone, repetitive and hypnotic five minute songs all the way!
https://granslandethc.bandcamp.com/
RAKA RØR:
Beer-on-can-punk for long haired people with mustasche. Very singalong friendly songs, so make sure to listen to them so you can shout along with a beer in your hand!
https://rakaror.bandcamp.com/
GENERAL GENOCIDE:
D-beat death metal from Stockholm. Very good live band!
https://soundcloud.com/general-genocide
TUHOON TUOMITUT:
One of the best kängpunk/crust punk bands from Finland. The two vocalists fits super well together and makes them stand out from the rest!
https://tuhoontuomitut.bandcamp.com/
TURETO SINDROMAS:
Totally fucking insane rocksteady/ska punk on crack from Lithuania. You definitely don't want to miss out on this one!
https://turetosindromas.bandcamp.com/
PRESCRIPTIONDEATH:
Extremely fucking good
powerviolence/grindcore/fastcore
from Gävle. Without doubt one of the best live bands in Sweden!
https://prescriptiondeath.bandcamp.com/
BRÜNNER TODESMARCH:
Raw käng/crust punk from Brno, Czechia that was formed in 2011. This is some fast shit!
https://brunnertodesmarsch.bandcamp.com/
INTERPUNKCE:
Really fast and crazy hardcore/punk/crust from Prague, Czechia. Is supposed to be really fucking good live!
https://interpunkce.bandcamp.com/
REBUKE:
Fast and catchy skate punk from Gothenburg. Very successful in mainland Europe. If you're a fan of Propagandhi you'll probably love this.
https://rebuke.bandcamp.com/
BELMONDO:
New hardcore/punk band from Gothenburg with members from Selkäsauna and H-Squad, among other bands. Really nice guitar licks!
https://soundcloud.com/belmondopunk
USCH!:
Really fucking raw punk played by a bunch of high school kids! Haven't released anything yet, but we're really excited to hear what they've got!
URIN:
Really fucking raw and noisy hardcore/punk from Berlin, with lyrics in Polish. The members have previously played in PISS, GLOSS among many other bands.
https://urin.bandcamp.com/
BLEACHDRINKER:
Super fresh grindcore/powerviolence from Stockholm. This is really fucking fast!
https://xbleachdrinker.bandcamp.com/
DISILLUSIONED MOTHERFUCKERS:
Deutchpunk!!! "Throw
beer-bottles-and-drink-molotov-cocktails-every-weekend-punk"
https://disillusionedmotherfuckers.bandcamp.com/
MYTERI:
Melodic and well played neocrust/emokäng from Västra Götaland. You can always count on Myteri to deliver top notch quality!
https://myteriswe.bandcamp.com/
CRUCIAL FEATURES:
Very 90's influenced riot grrrl/queer punk from Lithuania. Queers to the front!
https://crucialfeatures.bandcamp.com/
LOWEST CREATURE:
Really fucking good crossover/hardcore/thrash from Örebro. Could be considered a Swedish version of Power Trip, which is definitely a really good thing!
https://lowestcreaturehc.bandcamp.com/
FREEDUMB:
Party friendly punkrock/hardcore from Østfold, Norway. In Norway they're considered to be a really fucking good live band, and now it's finally time for them to show it to the rest of the world!
https://freedumbnorway.bandcamp.com/
KLEINES MÄDCHEN:
Catchy and melodic old school punk from Gothenburg, played by a bunch of high school kids. They haven't released anything yet, but we've heard a little taste and it sounds promising!
MANACLES:
Catchy and raw hardcore punk from Lithuania. You'll love this if you're a fan of fast d-beat!
https://manacles.bandcamp.com/
HEAVY BLEEDING:
Dark and raw black metal infused d-beat punk from Gothenburg. FUCK JESUS!!! 666
https://heavybleeding.bandcamp.com/
RAW ANARCHY:
Best band in the world! Take a listen for yourself and you'll understand what we're talking about!
https://www.youtube.com/watch?v=ha9_qjAXa88
偏執症者 PARANOID:
Big in Japan! Japanese hardcore played by north swedish veterans.
https://pndftw.bandcamp.com/
http://www.pndftw.com/
FREDAG DEN TRETTONDE:
Long standing neo-crust band from Gothenburg that so
far has made 5 albums and played a show on every Friday the 13th
possible.
https://fredagden13e.bandcamp.com/
TRUBBEL:
Sing along punkrock simmilar to 70's gothenburg punk. One of
the best live acts in town.
https://trubbel.bandcamp.com/
GOD MOTHER:
Very well pl
Kommentarer
Innehåll dolt för icke inloggade användare